Travelling Tales from Hope Education
Go on a Travelling Tales adventure with your learners...
Travelling Tales have been developed with the help of literacy specialist teachers and designed to provide EYFS and KS1 Educators with resources for a series of cross-curricular reading and writing lessons.

Save time planning with ideas and inspiration for effective storytelling lessons

Stock up on thematic resources, personalised around a central quality text

Engage your learners with texts from Julia Donaldson, Michael Rosen and Gile Andreae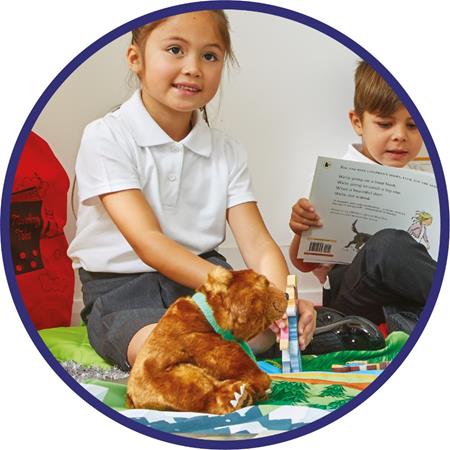 Stick Man by Julia Donaldson
Stick Man is the heart-breaking story of a wooden stick who becomes separated from his family and spends a year trying to find his way home. Moving through the seasons, Stick Man experiences many an adventure trying to get home before finally, an interaction with Father Christmas helps him get home.
This beautiful story set in England, is the perfect Christmas tale. This Travelling Tales sack includes an activity book and resources for children to make their own Stick Man, as well as other resources for cross-curricular activities.

Billy Goats Gruff by Alison Edgson
Fairy tales make the best stories for engaging children in their own story writing and Billy Goats Gruff is no exception. The story is fantastic for exploring the theme of bullying; a troll under a bridge terrorises the heroes of the tale, the Billy Goats Gruff.
The Travelling Tales sack includes wooden representations of the main characters as well as a story mat to help re-tell the story. All the resources included aid the teaching of this age-old fairy tale and help to develop skills in communication, language and understanding.

Handa's Surprise by Eileen Browne
Explore the similarities and differences of other cultures by following Handa's journey from one Kenyan village to another. This beautifully illustrated story is perfect for young readers looking for a fun story with themes of animals, fruit and friendship.
If your theme is other cultures or Africa, this is the perfect Travelling Tales sack. You can immerse your learners in storytelling with puppets of the main characters and explore African culture with the traditional game and instrument included.

Giraffes Can't Dance by Giles Andreae
This is the perfect text for exploring themes of bullying and self-confidence. Gerald the giraffe is laughed at when he approaches the dancefloor at the Jungle Dance. He is comforted by a friendly cricket who convinces Gerald to "dance to his own music". Gerald finds the confidence to listen to the cricket's advice and never looks back.
You can rest your voice and let someone else tell the story with a CD included in this Travelling Tales, as well as other helpful resources for cross-curricular storytelling lessons.

The Little Red Hen by Susanna Davidson
Explore the world of a farmyard through the eyes of the brave Little Red Hen. This well-known fable follows Little Red Hen who tries to galvanise her farmyard friends to help her make food. The story delves into the idea that hard work is rewarded, using recognisable creatures from the farm.
The Travelling Tales sack includes a quality non-fiction book and other farmyard themed resources for a cross-curricular exploration. 

The Snail and the Whale by Julia Donaldson
The Snail and the Whale comes from the household favourite author of Julia Donaldson. This heart-warming story follows the unlikely friendship between a snail and a whale and the adventures they take around the globe. The story teaches children to explore the potential impact we can have even when we feel small in the vastness of the world.
The Travelling Tales sack includes a range of underwater themed resources, perfect for an ocean topic.

Room on the Broom by Julia Donaldson
Go on an adventure with a witch and all her animal friends, inspiring your learners with Room on the Broom. This fantastic story was written by the beloved Julia Donaldson and illustrated by the talented Axel Scheffler. The Witch is rewarded for her kindness when she finds herself in a sticky situation, teaching children that it is always worth being kind to others.
The Travelling Tales sack includes puppets of all the main characters, along with a witch's hat: the perfect autumn-term companion.

Owl Babies by Martin Waddell
This heartbreakingly cute story is about the fear children commonly feel when left by a parent. Upon waking at night and finding their mother isn't with them, the three sibling owls wait for her return, supporting each other through their concern. Inevitably she does return, and all is right with the world again.
The Travelling Tales sack includes owl baby puppets and a non-fiction text about owls. This story and accompanying resources would be perfect for a woodland topic or alongside forest school lessons.

Noah's Ark by Rob Lloyd Jones
Taken from the Old Testament and re-told by award-winning Rob Lloyd Jones, Noah's Ark tells the story of Noah and a warning from God about a great flood. God tells Noah that he must take responsibility for all the animals, and so Noah builds an ark and invites the animals aboard.
This Travelling Tales sack includes lots of animal themed resources. An animal sing-along CD, game and a non-fiction book about the world's rarest animals making for a fantastic bank of cross-curricular storytelling resources.
We're Going on a Bear Hunt by Michael Rosen
We're Going on a Bear Hunt by Children's Laureate, Michael Rosen, is a firm favourite amongst young people and adults alike. The story is written with a clear rhythm and helps learners recognise the common patterns and rhythms in song and storytelling.
We're Going on a Bear Hunt Travelling Tales sack includes a non-fiction book about bears, a cross-curricular board game and other wide-ranging resources to assist in the teaching of a series of lesson: perfect for forest school lessons or woodland themes.
What the Ladybird Heard by Julia Donaldson
Another treat from Julia Donaldson! What the Ladybird Heard follows the antics of Hefty Hugh and Lanky Len, two crafty robbers, who decide to steal the farmer's prize cow. But they have underestimated the power of one tiny ladybird and her farmyard friends.
A printed playmat and finger puppets allow you to tell the story using a multi-sensory approach. Other resources included in this Travelling Tales sack will help you plan inspiring cross-curricular storytelling lessons.

We're Sailing Down the Nile: A Journey Through Egypt by Laurie Krebs
This vivid journey along the Nile will give your learners expert knowledge of Egypt. We're Sailing Down the Nile Travelling Tales is the perfect resource for an Egypt topic, with a craft book packed with Egyptian things to make and do included, as well as plastic figures and a printed map of the river Nile. Use the resources included in this Travelling Tales sack to plan an epic cross-curricular scheme of work centred around the fantastic We're Sailing Down the Nile.

The Gruffalo by Julia Donaldson
This modern classic is a fantastic go-to when you're looking for a story that exudes excitement, bravery and lovable characters. The Gruffalo follows the journey of a mouse through a "deep dark wood" and enchants the senses with beautiful illustrations from Axel Scheffler and genius wordsmithery from Julia Donaldson.
Help learners digest and re-tell the story themselves with hand puppets of the main characters and teach a series of cross-curricular lessons with a non-fiction book and other fantastic quality resources around the theme of woods and forests.
Explore more or our English resources