Conversation Cards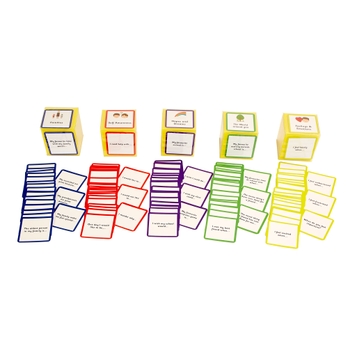 Conversation Cards
HE1688351
Product Description
Get children talking with these sturdy conversation cards. With questions on the themes of Self Awareness; Families; Feelings and Emotions; Hopes and Dreams; and The World Around You, each set of cards encourages children to talk about themselves and explore their thoughts and feelings. Includes 150 cards in total (30 per topic). Can also be used with the Foam Dice with Pockets, to create opportunities for rolling the dice for quick-fire question and answers, group discussions and one-to-one work.
Learning Outcomes:
English: Spoken Language Years 1 – 6
• Maintain attention and participate actively in collaborative conversations, staying on topic and initiating and responding to comments
Notes and Guidance
• Pupils should be taught to develop their competence in spoken language and listening to enhance the effectiveness with which they are able to communicate across a range of contexts and to a range of audiences. They should therefore have opportunities to work in groups of different sizes – in pairs, small groups, large groups and as a whole class. Pupils should understand how to take turns and when and how to participate constructively in conversations and debates.
• Attention should also be paid to increasing pupils' vocabulary, ranging from describing their immediate world and feelings to developing a broader, deeper and richer vocabulary to discuss abstract concepts and a wider range of topics, and to enhancing their knowledge about language as a whole.
PSHE
• Personal, social, health and economic (PSHE) education is an important and necessary part of all pupils' education. All schools should teach PSHE, drawing on good practice