La Jolie Ronde Spanish Schemes of Work - Years 3 & 4
LowestPrice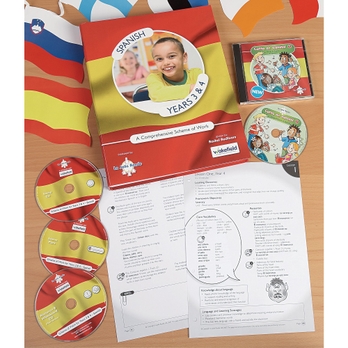 La Jolie Ronde Spanish Schemes of Work - Years 3 & 4
HE336888
La Jolie Ronde's acclaimed Scheme of Work in Spanish contains everything you will need to enable you to start teaching straightaway thus making it the ideal solution and the 'must-have' resource.
The Scheme is a flexible 4 year programme providing support to teachers with no previous experience of teaching foreign languages and a guide for the more experienced, who can modify to suit.
• Written in accordance with the Key Stage 2 Framework for MFL
• Split into 2 Schemes – for years 3 & 4 and 5 & 6
• Pre-prepared lessons, divided into short sessions for flexibility
• Comprehensive and detailed lesson notes in a ring binder and CD
Contains: A ringbinder of tried and tested detailed lesson plans, 4 CDs of lesson plans and resources including flash and text cards, interactive white board games and activities, sound files for both years and Canta en Español CDs of traditional and modern songs, chants and poems.