Target Maths Fluency Games by Peter Clarke Year 2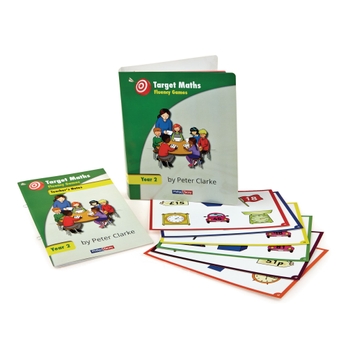 Target Maths Fluency Games by Peter Clarke Year 2
HE1114671
Product Description
An ideal Y2 resource for consolidating mathematical knowledge and developing speaking and listening skills, whilst promoting effective group work and banishing fear of the subject. A great start or end to a maths lesson, or use as a quick filler activity.
Each set has 36 full colour A5 cards in 6 colour coded groups to ensure a fresh card every time, and to enable some games and activities to be extended by giving more able pupils more than one card. Each card shows features from all areas of maths including 2D shapes, 3D solids, measurement words, measurements, whole numbers, coins, operation words or symbols, letters of the alphabet (for symmetry) and times - great for revision! Try quick, fun activities like these:
• Group activities, e.g. Look at the length measure on your card. Put yourselves in order from smallest to largest.
• Individual activities, e.g. Look at the letter on your card. Stand up if it has 1 or more lines of symmetry.
• Whole class activities, e.g. Group yourselves according to whether you have a 1, 2, 3 or 4 digit whole number on your card.
• Competitive games such as Bingo and Who's left standing?
Target Maths is easy to implement. Games and activities are organised by maths topic in the comprehensive ring-bound 64pp of teacher's notes, preparation is minimal, and no writing is needed.
About the author: Peter Clarke is a freelance consultant specialising in training and writing for primary mathematics education, and lectures on postgraduate and teacher training courses. He has been a mathematics coordinator and deputy headteacher in primary schools in Australia and the UK, has worked as a mathematics advisor in London and on the Improving Primary Mathematics initiative, and has written and edited over 300 maths publications.