Cuisenaire® Rods 10cm Set
LowestPrice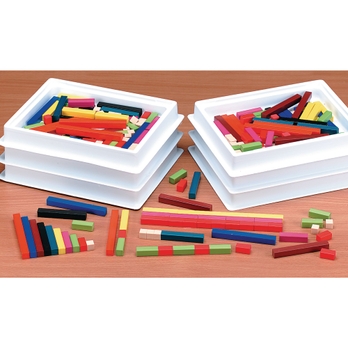 Cuisenaire® Rods 10cm Set
HE166133
We have Georges Cuisenaire to thank for Cuisenaire Roads. Thanks, Georges! A Set of Cuisenaire Rods is great for a wide variety of Maths Mastery activities; they are the perfect concrete resource for emerging pupils getting to grips with new mathematical concepts.
If you're unsure how to use Cuisenaire Rods in the classroom, each rod colour represents a different length: white is the shortest at 1cm and orange is the longest at 10cm. Cuisenaire Rods can be used to investigate symmetry, addition and subtraction, decimals and fractions and number bonds. Because each colour represents a different length, with each one 1cm longer than the previous, Cuisenaire Rods can also be used to carry out measurement investigations too.
• Teach new mathematical concepts using a visual manipulative maths resource that can be used to tackle concrete understanding in Maths Mastery.
• Use Cuisenaire Rods to teach fractions activities, act out subtraction, model addition and develop logical reasoning skills.
• Add to your go-to concrete Maths Mastery resources with this Set of 74 Cuisenaire Rods.
What's in the box?
6 x trays with lids
4 x orange rods (10cm)
4 x blue rods (9cm)
4 x brown rods (8cm)
4 x black rods (7cm)
4 x dark green rods (6cm)
4 x yellow rods (5cm)
6 x purple rods (4cm)
10 x light rods (3cm)
12 x red rods (2cm)
22 x white rods (1cm)