Intelliglobe™ II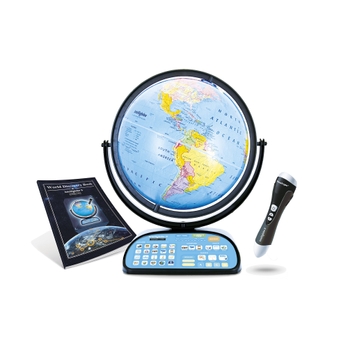 Intelliglobe™ II
HE1682548
Direct Delivery – up to 2 weeks Delays Possible Due To COVID-19
The Intelliglobe™ II is an interactive tool that has been completely updated for 2018 and beyond. The pen is blue-tooth enabled and uses a rechargeable battery, charged via the USB cable included. Under the Explore features, there are new categories including Tourism, Animals, Food as well as distance and flying times, cities, populations, land area, currency, history etc., making it a true cross-curricular resource. The Facts features include 2 new categories – Amazing Facts and World Records. Multiple choice games give instant feedback, building confidence and have 3 levels of play – beginner, intermediate and advanced. The book that is included also works with the pen and contains 60 pages of additional information such as flags, lakes and rivers, landmarks, ocean peaks, Moon map and the Solar System, Olympic Games host cities and standard time zones.
Reasons to Love
This interactive globe brings a whole new dimension when it comes to developing children's geographical skills!
This re-chargeable electrical globe comes complete with a blue tooth enabled pen and enables a whole host of geographical enquiry to take place.
Under the explore features function, children can discover an abundance of information about countries of their choice including major cities, tourism, foods, currency, populations and even their history – a truly cross curricular resource!
Perfect in assisting children to ensure they meet KS2 & 3 geography curriculum objectives, particularly when it comes to human and physical geography.