Phonix Word-Building Strips Pack Of 48
Pack of forty eight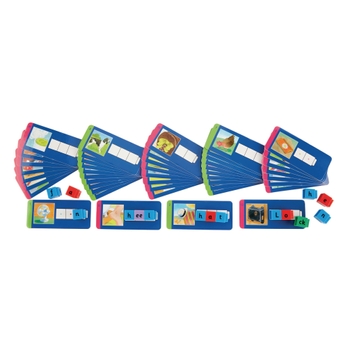 Phonix Word-Building Strips Pack Of 48
Pack of forty eight
HE251244
Get children practising word building with these colourful key word strips, ideal for use alongside the Phonix word cubes (purchased separately). Half of the strips focus on CVC words while the other half cover initial/final consonant clusters and vowel phonemes. Supplied in a handy storage box. Contents: Set of 48 laminated strips. Size: 125 × 55mm.
Reasons to Love:
• The Phonix range will provide a tactile element to your phonics sessions. The cubes are colour coded to enable the teaching of vowels and consonants. Further colour coding defines digraphs taught in phase 3 and 5.
• The cubes will aid the teaching of blending for reading and segmenting for spelling, as they can be manipulated to show how the separate sounds fit together.
• Additional resources are available to enhance independent learning, such