Story Maker's Chest KS2 by Pie Corbett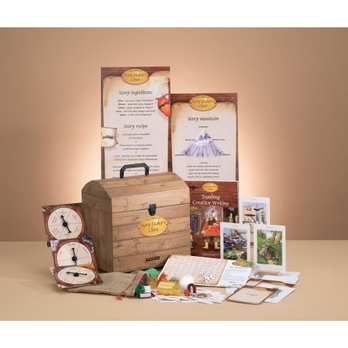 Story Maker's Chest KS2 by Pie Corbett
HE250568
Product Description
'The Story Maker's Chest' is an award-winning, bestselling discovery box for teaching creative writing at KS2 and KS3.
Here's what just a few fans have to say:
"The real treasure trove in this chest lies in the Teacher's Guide - a cornucopia of tried and trusted ideas that work in any classroom." Kevin Harcome, TES Review
"Children get a lot of pleasure out of having something tactile and something tangible to feel, it's a sensory experience for them… it gives you unlimited creativity." Adrienne Jones, Educational Consultant
"There's a lot to offer in the Chest, and particularly the way in which Pie Corbett opens out how the writing process takes place. It really did catch my imagination, and I think if you can capture an adult's imagination, that's going to come across with the children that they're teaching." Helen Wolstonecraft, Primary English Specialist
How does it help you?
• It unlocks the potential within all your pupils - harnessing the power of their imagination, giving it shape in a written form
• It allows for your input - you'll be delighted how varied each session is, as all the activities and resources can be as open-ended as you like
• It is crammed with tactile resources such as prompts, spinners and games that stimulate even the most reluctant child so they engage in the session and enjoy structuring their writing
• It particularly appeals to boys as it brings a visual-kinaesthetic and multi-sensory dimension to writing work
• It leads naturally to speaking and listening activities for the whole class and groups
• It adds a touch of mystery and magic that captures children's imaginations - and keeps them interested!
• It is also an inspirational drama and role-play resource.