Junior Gameboard Picnic Benches - Green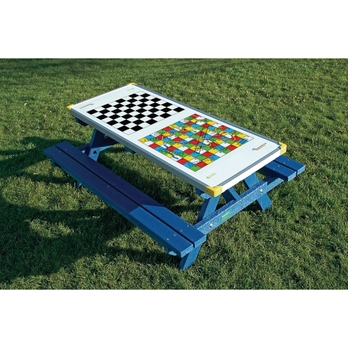 Junior Gameboard Picnic Benches - Green
HE48598212
Direct Delivery – up to 4 weeks
Product Description
This heavy-duty picnic bench is designed specifically for children, to enhance playground activities. Comes complete with a gameboard top featuring snakes and ladders and chess. Manufactured from 100% plastic waste, it has a robust construction and is suitable for the playground or garden. The recycled plastic contains the equivalent of 2000 plastic drinks bottles; recycled plastic does not fade in the sun, nor will it rot or splinter.
• Fade resistant
• Recycled plastic
• Does not rot, corrode or splinter
• Robust construction
• Environmentally friendly
• Manufactured in the UK
• Easy to clean
• Delivered fully assembled
• Available in blue or green
• Available in two table top designs
• Seat height 360mm
Dimensions: W1500 x D1100 x H610mm. Seat height 360mm.