A3 Portrait Folding Wedge – Portable, Table-Top, Dry-Wipe, Magnetic, Double-Sided Whiteboard – Red/Blue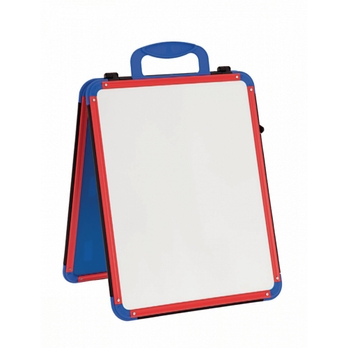 A3 Portrait Folding Wedge – Portable, Table-Top, Dry-Wipe, Magnetic, Double-Sided Whiteboard – Red/Blue
HE48497852B
Direct Delivery – up to 2 weeks Delays Possible Due To COVID-19
Versatile, multi-purpose, premium quality, double-sided, magnetic, dry-wipe whiteboard.
The board is sturdy and robust and having an integrated carry handle makes it extremely portable. The Folding Wedge is the perfect solution if boards need to be shared between classrooms, used outdoors or taken on excursions.
• Dual purpose surface both magnetic and dry-wipe
• Mobile, use on a table top or on the floor.
• Ideal for front of class, group work or one-one. Facilitates interaction, engages students, aids learning and communication skills. Ideal for all areas of the curriculum.
• Folds away for easy storage
• Solid construction with anti-slip rubber feet
• Premium Quality, Made in the UK
This board is also available in A3 Landscape or A2 Landscape or Portrait.
Dimensions: A3: H460 x W340mm