A4 Wedge Jotter - Blue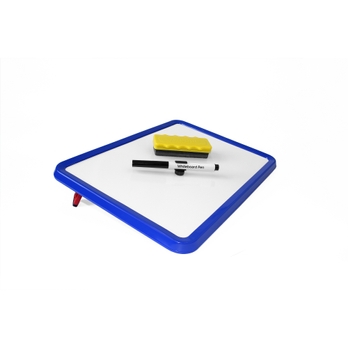 A4 Wedge Jotter - Blue
HE1487194
Product Description
The Wedge Jotter is a superb quality dry-wipe, magnetic whiteboard that can be used as a lap board or on the table top. With its strong edges and corners this premium quality board is extremely durable and will withstand regular classroom use.
Uses:
The design of the Wedge Jotter is totally unique- the writing surface is 15% larger than an A4 sheet. It also has integrated flip out legs which allows the board to be angled on the desk in either portrait or landscape position. These combined exclusive features aid the development of writing.
The boards fold flat making it easy to photocopy student's work and easy for the boards to be stacked and stored away. The Wedge Jotter features hanging points for wall mounting either horizontally or vertically.
Product Overview:
• Available in Red, Blue and Yellow
• Multipurpose teaching aid - suited to various activities including teaching phonics or for pupils with special educational needs.
• Premium quality, individually handmade in the UK, with strong plastic edges and corners.
• Integrated flip out legs and anti-slip rubber feet, the Wedge Jotter can be angled on a desk in either landscape or portrait position. In addition to this, the writing surface is 15% larger than an A4 sheet - both of these unique features aid the development of writing and drawing, helping to accelerate the learning process.
• Light in weight, folds flat for easy storage and easy to photocopy.
• Features hanging points enabling the board to be wall mounted either horizontally or vertically motivating pupils to produce a high standard of work.
Wedge Jotter Whiteboard Area H32cm x W22cm
Dimensions: Whiteboard Area: 320 x 220mm