Additional Panel Gallery Display System - Additional Panel - 90x180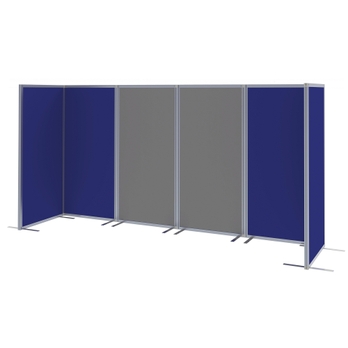 Additional Panel Gallery Display System - Additional Panel - 90x180
HE1700008
Direct Delivery – up to 2 weeks Delays Possible Due To COVID-19
The new Gallery Display System is stylish in design
yet robust and versatile. This premium product not
only represents the highest quality in exhibition
systems, but is simple to use and quick to assemble.
The panels lock together in seconds with the panel
key provided, making it easy to reconfigure, for
maximum versatility. The lightweight panels are
easily portable, stable and suitable for heavy duty
use. Whether your are permanently displaying
work, or creating a semi-permanent project display,
this system delivers the quality and simplicity
required.
• Each panel has blue fabric on one side and grey
fabric on reverse.
• This product has a 1 year guarantee.
Dimensions shown below are for straight-line
configuration
H1800 x W900mm.