Room Scenes Room Set 1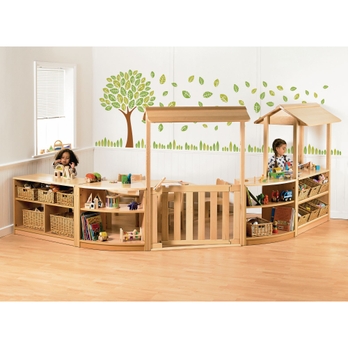 Room Scenes Room Set 1
HE1420419
Direct Delivery – up to 4 weeks Delays Possible Due To COVID-19
Our new range of modular nursery furniture allows you to create your perfect nursery environment. Made from solid beech, this premium furniture can be arranged in whatever configuration suits your nursery, from Reading Corners to Role Play, the Design, Inspire and Play range will suit all your needs. Using the connecting posts, the units are easily slotted together using the unique connecting system to create one flat surface. Double height connectors allow panels to be stacked on top of units to create different levels. Simple self assembly required on some items.
• The bundle includes: 2 curved shelves, 1 open bookcase, 1 doorway entrance frame, 1 fence gate panel, 1 shop/theatre attachment, 1 angled tidy store (without trays) and 2 packs of 90° standard connecting posts.
• The floor space requirement for this set will be 2700 x 2700 x 1500mm high.
• Wicker baskets are not included.
• Self assembly.