Music Pick Up And Play
New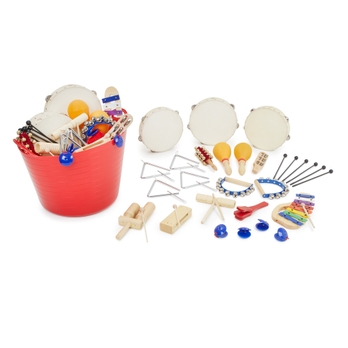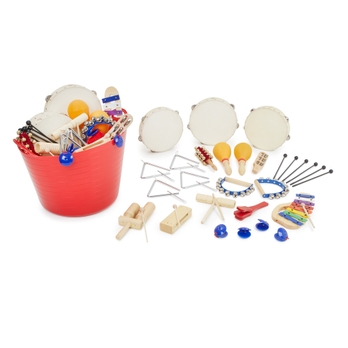 Music Pick Up And Play
An outstanding value set of instruments stored within a handy tub. Instruments are aimed at Key Stage 1 children and the pack contains sufficient instruments for 56 pupils to use at one time. Perfect for multi-class productions, these instruments have been selected to help children play simple tunes and rhymes by ear and from symbols
List of products in this kit
8 Note Chime Bar Set x4
2 Tambourine x2
5 Bells Handbell x4
Triangle W/Beater x8
Tone Block W/Beater x2
Wood Block with Beater x2
Maracas x 2
Double Quiro (Agog) x2
Length Stock Handbell x 2
Clusterbells x 2
Castanet (4 x Pairs)
Wooden Solo Tambourine x 2
Finger Cymbals x4
Handle Castanets (2 x Pair)
Mallets (x6 Pairs)
Teacher's Notes x1
Flexi Tub x1
Contents may vary slightly subject to availability.
Further Information
Colour

Assorted

Key Stage

KS1

Number of Players

20 Players

Product Type

Classroom Kit
An outstanding value set of instruments stored within a handy tub. Instruments are aimed at Key Stage 1 children and the pack contains sufficient instruments for 56 pupils to use at one time. Perfect for multi-class productions, these instruments have been selected to help children play simple tunes and rhymes by ear and from symbols
List of products in this kit
8 Note Chime Bar Set x4
2 Tambourine x2
5 Bells Handbell x4
Triangle W/Beater x8
Tone Block W/Beater x2
Wood Block with Beater x2
Maracas x 2
Double Quiro (Agog) x2
Length Stock Handbell x 2
Clusterbells x 2
Castanet (4 x Pairs)
Wooden Solo Tambourine x 2
Finger Cymbals x4
Handle Castanets (2 x Pair)
Mallets (x6 Pairs)
Teacher's Notes x1
Flexi Tub x1
Contents may vary slightly subject to availability.
Further Information
Colour

Assorted

Key Stage

KS1

Number of Players

20 Players

Product Type

Classroom Kit