Celebrating 40 Years of Multilink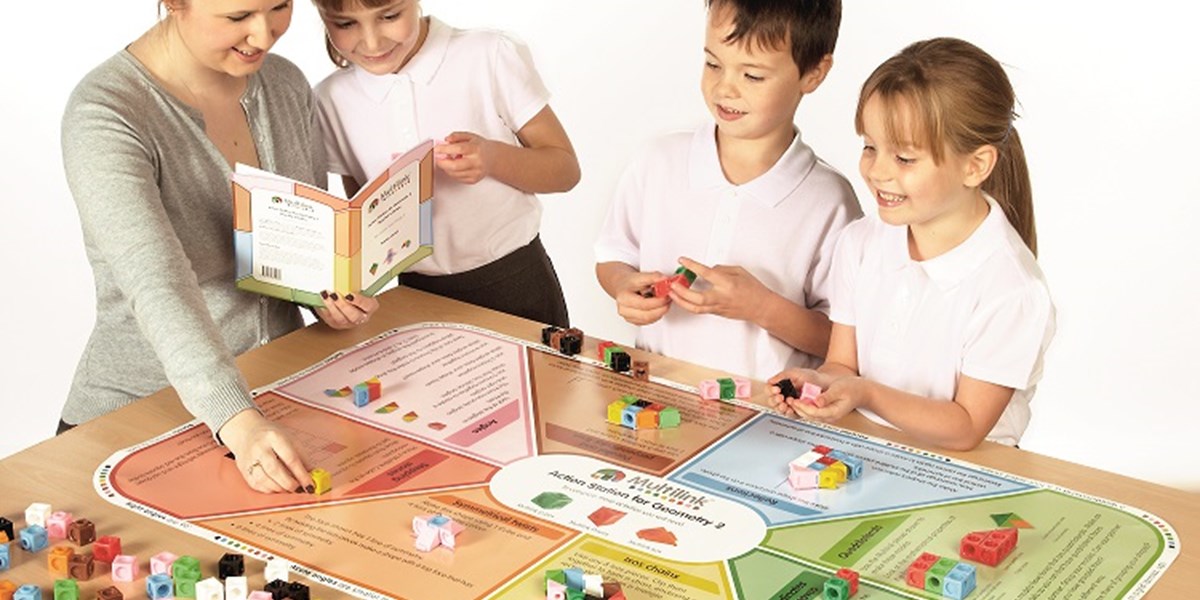 Karen Levet, an Advanced Skills Teacher in mathematics and daughter of the originator of Multilink, explains how the resource has developed over the years.
The 2cm Multilink Cubes were first developed in the 1970s by Bob Stone, who was keen to develop a practical and easy-to-use tool to aid with the teaching of number skills. Working with the Cubes in a variety of school roles, he soon realised the huge potential they have for enabling pupils to acquire mathematical skills across all areas of the subject. He subsequently created the Prism, the Isos and the Quadrant, which opened up a wealth of teaching opportunities and meant pupils could gain further practical experience of shape, proportion, and algebra and statistics, as well as of number.
Multilink soon became one of the most popular maths tools in schools, used from Reception all the way through to secondary school and beyond.
Multilink pieces are unique, encompassing aspects of mathematics that no other piece of equipment can, and all of the shapes can be connected to each other using a unique system.
The Cubes have connectors on every face allowing for construction in all three planes.
The Prism has an equilateral triangle cross-section, which enables exploration of 60° angles. Prisms can be joined together to create other shapes that can then be used to create tessellations and symmetrical patterns.
The Isos has an isosceles right-angled triangle cross-section with two angles of 45°. Two Isos pieces can be joined together to form a cube, providing valuable practical experience of fractions. They can also be joined to form a hinge and so used to investigate movement.
The Quadrant has a quarter-circle cross-section. Quadrants can be joined together to form cylinders and other shapes, giving further practical insight into fractions and allowing exploration of circles and curves.
Students of all ages and abilities enjoy using the Multilink pieces. Over the years, the connectors have been refined to enable easy manipulation by even the youngest of children, whilst older children can use their creativity to produce shapes and sequences that lead them further into the world of number and algebra.
As Bob's daughter and a teacher of mathematics, I have been surrounded by Multilink for most of my life and am delighted to be involved in its continued development. Having been designed to teach the principles of mathematics, rather than to fit any particular learning programme, Multilink has retained its relevance throughout curriculum and syllabus changes. Today it is used to enable, enhance, explore and extend pupils' understanding of nearly every aspect of the new primary mathematics curriculum.
Karen continues to work with our Product Development team to expand and enhance the Multilink range. The Multilink Action Stations were recently shortlisted for an Educational Resources Award, and our NEW for 2016 Grid Tray Sheets provide countless activities suitable for all stages of primary school and beyond.