15 Quotes to Celebrate Dr. Seuss' Birthday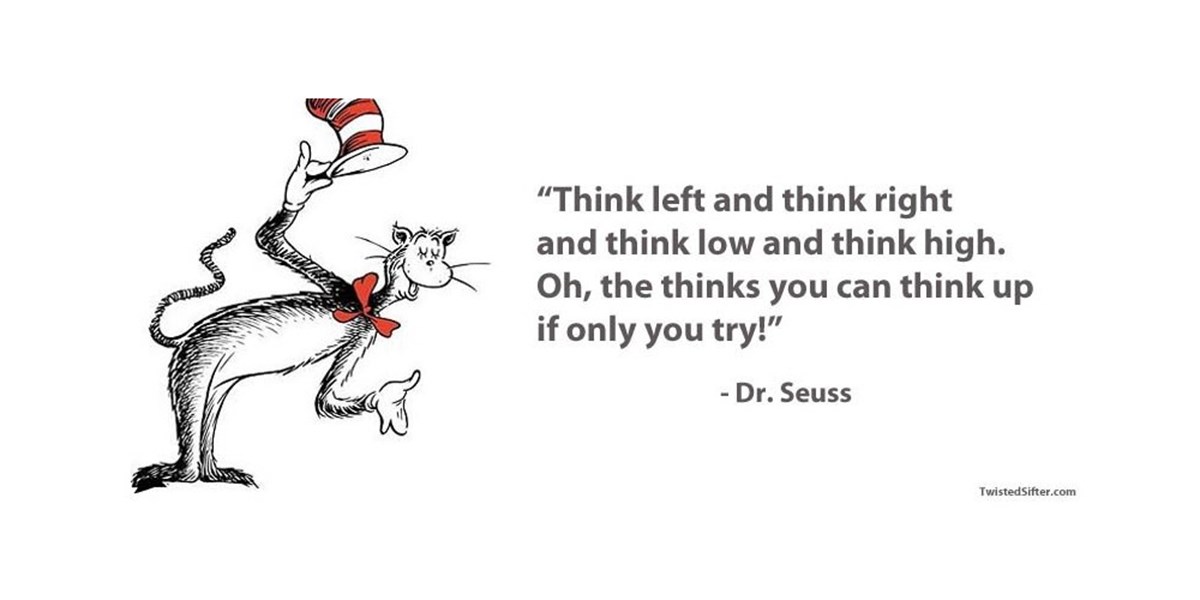 March 2nd is Dr. Seuss' birthday, and whether you're going to be celebrating it with your class or not, it's the perfect opportunity to look back at some of the great inspirational quotes he provided with his many fun books.
We've put together 15 of our favourites below, all of which can be made into posters for classroom displays to help motivate and encourage little learners.
1) "BE WHO YOU ARE, AND SAY WHAT YOU FEEL. BECAUSE THOSE WHO MIND DON'T MATTER, AND THOSE WHO MATTER DON'T MIND." Attributed.
Encourage children to be themselves and not worry about what others might think. Everyone has a right to be unique!
2) "TO THE WORLD YOU MAY BE ONE PERSON; BUT TO ONE PERSON, YOU MAY BE THE WORLD." Attributed.
Via New York Vinyl
It's been said many times, but it still rings true, especially for teachers. To the children in your class, you often mean the world to them.
3) "THE MORE THAT YOU READ, THE MORE THINGS YOU WILL KNOW. THE MORE THAT YOU LEARN, THE MORE PLACES YOU'LL GO." From: I Can Read With My Eyes Shut

Via SSD design
What better quote to encourage reading in the classroom and promote a love of learning, travelling and the wider world.
4) "YOU HAVE BRAINS IN YOUR HEAD. YOU HAVE FEET IN YOUR SHOES. YOU CAN STEER YOURSELF IN ANY DIRECTION YOU CHOOSE!" From: Oh The Places You'll Go!
This quote is ideal for helping children understand the importance of thinking and doing for themselves, and not to blame others for their own actions!
5) "UNLESS SOMEONE LIKE YOU CARES A WHOLE AWFUL LOT, NOTHING IS GOING TO GET BETTER. IT'S NOT." From: The Lorax
Via DesignsByMaggieL
As a teacher, you already know how important caring is. This poster can be used to encourage young children to care too, both for each other and the community around them.
6) "TODAY YOU ARE YOU, THAT IS TRUER THAN TRUE. THERE IS NO ONE ALIVE WHO IS YOUER THAN YOU." From: Happy Birthday To You!
Remind children in your classroom every day about the importance of being themselves, and use this to help littler learners understand how everyone is unique!
7) "A PERSON'S A PERSON NO MATTER HOW SMALL." From: Horton Hears A Who!
Via WordsWorkPrints
Perfect for the early years environment, this quote is about believing in everyone, no matter who they are, big or small! It's great for promoting care for each other in the classroom.
8) "I'LL BET YOU KNOW A THING OR TWO! YOU'RE SUPERSMART! I'M PROUD OF YOU!" Attributed.
Via Pinterest source Lynseymcc
Every teacher is proud of their students, and this is a great little quote to remind them of that!
9) "THINK AND WONDER. WONDER AND THINK" Attributed.
Via Blissful roots
There are so many distractions in life, it's easy to forget to just take the time to think! This poster can help promote the importance of critical thinking in the classroom and remind children about the wonders of the world.
10) "THINK LEFT AND THINK RIGHT AND THINK LOW AND THINK HIGH. OH, THE THINKS YOU CAN THINK UP IF ONLY YOU TRY!" From: Oh The Thinks You Can Think!
Via CuriousMinds101
This is another enjoyable Dr. Seuss quote to inspire thinking in all different kinds of ways, and help children discover endless creative possibilities.
11) "SOMETIMES THE QUESTIONS ARE COMPLICATED AND THE ANSWERS ARE SIMPLE." Attributed.
Via myperfectline
This can be a really useful reminder to help children think simply when it comes to solving problems in front of them, and can also encourage kids to ask those complex questions too!
12) "YOU'RE OFF TO GREAT PLACES, TODAY IS YOUR DAY. YOUR MOUNTAIN IS WAITING, SO GET ON YOUR WAY." From: Oh The Places You'll Go.
Via covenanthousebc
We all have hills to climb and problems to overcome, but with a positive attitude, you can look forward to every day, teaching your class and inspiring children.
13) "IT'S BETTER TO KNOW HOW TO LEARN THAN TO KNOW." Attributed.
Via The Michigan Mom
Just because you don't knowthe answer now doesn't mean you can't learn. Children learn in all kinds of different ways, and this quote can remind them of that. Perhaps you can create a wall display all about learning?
14) "YOU'RE ON YOUR OWN. AND YOU KNOW WHAT YOU KNOW. AND YOU ARE THE ONE WHO'LL DECIDE WHERE TO GO." From: Oh The Place You'll Go!
Via Bright Drops
This a great one to show your children if they're about to move onto another class. You've taught them well, and now their future is in their hands!
15) "YOU CAN FIND MAGIC WHEREVER YOU LOOK. SIT BACK & RELAX. ALL YOU NEED IS A BOOK." Attributed.