What blogger Andi Turner thinks of our Christmas Craft Compendium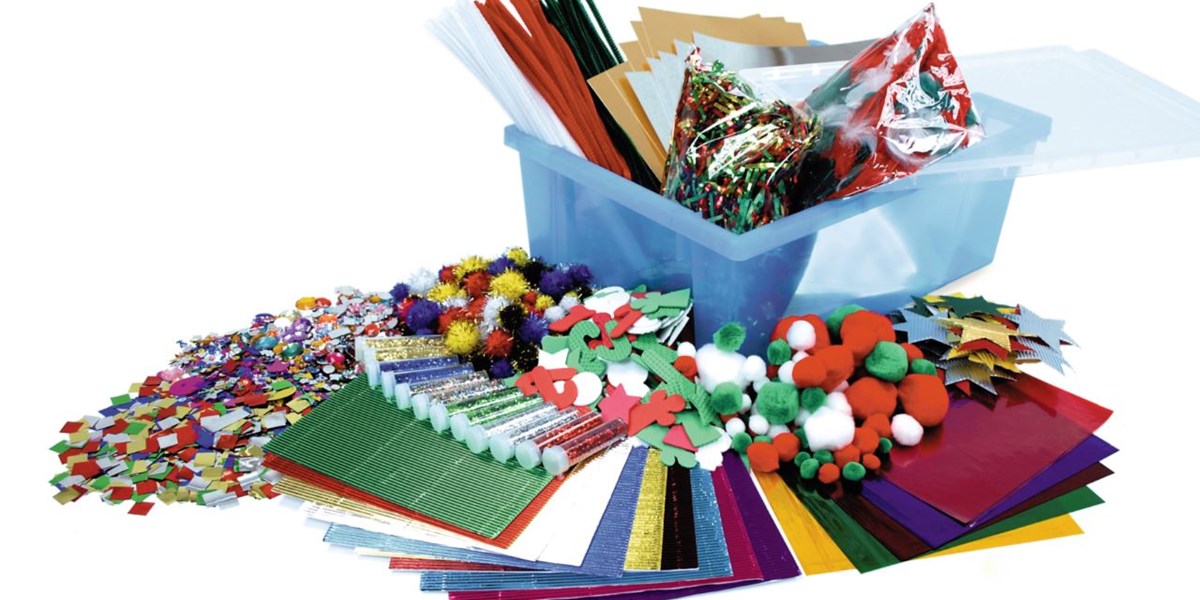 Are you looking for a simple solution to Christmas crafting? Our Christmas craft compendium has got you covered. All crammed into a 150mm deep Gratnells tray, the pack includes foil shred, pom poms, festive foam shapes, sequins, feathers, pipe cleaners, corrugated stars, gems, A4 gold and silver card, A4 metallic corrugated board, coloured cellophane and glitter!
But don't just take our word for it, here is what blogger and childminder Andi Turner had to say….
"I got one of these a couple of weeks ago and the kids here haven't stopped playing with it! We displayed each separate pack in plastic cocktail bowls on our loose parts unit: it's incredible how many bits are inside each bag, it really is. The ribbons and chunky pipe cleaners immediately found their way into the baby's treasure basket which was soon enhanced with threading bobbins and curtain rings.  
Feathers, sequins and gems have been squished into clay and may or may not end up smothered in glitter (dare we though, given the recent ban in a nursery chain?) and hung from a tree but it's early days and they've not quite finished with their sculptures yet so… Some of them will be so heavy mind that they're bound to pull the tree over. Best put those ones on the fireplace eh?
The coloured cellophane and blingy card is screaming out "stained glass something or other", that's what every nursery will be making between now and cracking open the copious bottles of wine and box of chocs on break-up-for-Christmas-day! Yet, these funny little critters are wandering through the garden with sheets of cellophane spread across their faces laughing at Rosie's green fur, Marley's blue tail and Tracy's pink teeth. The card has been rolled up into tubes which, when released, make great tunnel for trains, cars and small world dinosaurs. Perhaps not quite what Hope Education might have expected but hey, we've gotten used to not expecting anything usual at all around here.
The pom poms were stroked across faces with eyes gently closed and used to tickle each other's palms and shook up inside empty milk cartons. Not noisy enough though so swiftly tipped out and replaced with the far, far noisier mosaic tiles. Much better for announcing to the planes flying overhead that "loooooook we're all the way down heeeeeee-rrrrrrre!" And that pack of door and window insulation we had no clue what to do with? Well, the kids got the backing tape peeled off and it got covered with lots & lotsa stuff. The full lot'll be on one of their Christmas trees this year. All 10 metres of it. Perhaps even every year. (Not sure I'd want it on mine like…)
Now, I've been pricing up how much each individual pack would have cost from my usual go-to store for craft products and there's no way you'd get this many resources for this price. Heck, it even comes with a sturdy storage box with secure lid. So goo aawn, bag yourself a bargain and let the kids rip with their wild imaginations! Available to buy here now.
Thank you so much to Andi Tuner for this wonderful,  funny review! – To read more from Andi, visit her fantastic blog here >>>