Tale Totes
Our very own Tale Totes were finalists at the 2018 Education Resource Awards. We were thrilled by this news and wanted to share why our customers love these mats.
Tale Totes invite children to build upon and expand their imagination. Combining themed learning with games, books, figures and puppets each set encourages cross-curricular learning. Tale Totes come in a range of 8 exciting and creative themes. At the centre of each is a colourful play mat printed with an inspiring image, creating an ideal place to play. This zips up to contain all of the stimulating components. Tale Totes can be used inside or out and are machine washable at 30°C. Mat diameter is approximately 1350mm.
Tale Totes are a long lasting resource that will enhance teaching in any setting and have been carefully developed to become the perfect resource to ensure nurseries are covering all 7 areas of the EYFS.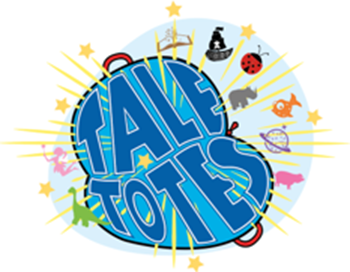 Communication and Language
Because the 'Tote' can be unzipped to form a large play mat, it is ideal for multiple children to engage in and play at the same time. This not only helps children to develop their confidence but encourages them to think about expressing themselves effectively as they work together and share.
Each Tale Tote contains a  popular book which can be read aloud to encourage listening skills and offers exposure to new language that would not normally be part of the every day.
Personal, Social and emotional development
It is important that early years children develop a positive sense of themselves and others as well as forming relationships. Group work is ideal for this as it encourages interaction and helps children learn how to behave in groups. Confidence is an important skill to master and Tale Totes will allow children to try new activities and say why they like some elements more than others.
Tale Totes are the perfect resource to bring stories to life and will contribute to a child's life long love of books and reading. They provide children with a wide range of materials to help them start linking sounds and letters using their phonic knowledge. As the themes of each Tale Tote are exciting, they will instantly set young imaginations wild. Children will love creating stories around the characters which can be used to start writing exercises.
Every Tale Tote contains either a game with counters or play figures perfect for counting and sorting. This helps young children understand numbers and start using mathematical language when playing.. The vibrant mats also allow children to start recognising colours and shades.
Each kit contains a diverse mix of contents, meaning there are plenty of opportunities for children to develop their fine motor skills. Painting masks will help children to use equipment effectively, whereas the board games have been designed to help children's co-ordination.
The various themes of Tale Tote help children understand the world (And beyond with our space Tote!). They help children find out about different places and environments and discuss similarities/ differences with their own environments. The Animal Totes encourage children to start making observations about animals e.g Minibeasts have lots of legs, fish have fins and giraffes have really long necks! Whereas the Dinosaur Tote aids discussions around past events. Young children may be familiar with some of the concepts (such as the farm) but under the sea and in space may be a whole new learning experience for them.
Expressive arts and design
The EYFS states that young children should be enabled to explore and play with a wide range of media and materials. So what could be better than a bag filled them?!
Some of the Tale Totes contain puppets, others contain fancy dress, colouring or a disc of animals sounds. This makes them ideal for expressive activities such as role play, story telling and singing.
The dinosaur tote has a range of different activities that are appropriate for different ages, as well as having a teacher support pack with a range of ideas to assist with lessons or homework. The puppets have been a big hit in the class and are a really nice addition to the pack.
The pupils loved the small world mat that opens up from the tote, this was a really lovely feature and supported our small world play with our own dinosaur figures in class.
I like that it can easily be stored and brought out when learning about dinosaurs, and it's great that there is a full range of these to use for various different topics. The activities support a wide range of areas of learning and can be adapted to different children's needs.

The tale tote has had a really positive impact on learning, the fossils and dinosaur puppets have really helped to support the children's interests in dinosaurs and will be continued to be used after half term during our dinosaur topic. The dotty dinosaurs game as been popular and is supporting the children with their shape, space and measure in mathematics as well as turn taking for their personal, social and emotional development. It has supported our learning through play and is easy to get out in small groups as a conversation/topic starter. It can be used in a wide range of ways and I look forward to seeing what other activities I can use this for.
This has supported children's learning by sparking an interest in dinosaurs ready for our topic next term. It is a great way of introducing a topic to the class and I am sure that as the topic progresses other things could be added to the tote to enhance learning.
I really loved the puppets inside the pack as well as the small world tote/mat, they were by far my favourite products as well as the children's. The book is sturdy and durable, which is important for little learners, but the picture cards have lovely pictures and are a great to support communication and language activities. The Tale totes meet a  wide range of educational aims making it great value for money.
This is an excellent and adaptable resource that could be used in many different ways. Everything's excellent quality and accessible for all – but the children were particularly engaged with the finger puppets: identifying and describing the different animals. It helped to have the CD with sounds to take this a step further with them.
The mat is really visual and helps to extend the age range of the Tote – as we can use it to widen the topic to environmental changes and climate change in particular. The book, "Giraffe's Can't Dance" allows us to use this in a PSHE setting too. A lovely resource to have!
Ms Turner, Andrea Turner Childcare
Wow! That's one complete provocation right there without me even having to think about it. It's fantastic!!!
The quality of the image on the printed bag is lovely and it is great that you can zip all of the resources inside it and hang it up out of the way at the end of play. Whilst the mat is designed for floor play, we also ended up using it attached to a fence as a backdrop for play.

The children in my home-based setting loved the  very well made dinosaur soft toys and were delighted to discover that they're actually finger puppets too (perfect for expressive arts- enabling their communication, language and imaginations to flourish).  They enjoyed putting them inside the openings on the volcano and creating their own narrative. The flap book and game were also a welcome addition as the children loved the turn taking, rule following nature.
The fossils are a welcome and interesting addition, we placed the 10 fossils into a container in the outdoor loose parts area which children quickly incorporated into their malleable play, pressing them into clay to create more and more fossils. The picture cards are gorgeous and we plan to create a display with them in our covered outdoor area.