Save Yourself 45% on Everyday Essentials by Shopping CLASSMATES

We understand just how fast busy nursery settings can get through essential resources, and know well that Art, Stationery, Cleaning and Facilities are the areas that are in need of replenishing most often. That's why we've been working hard to redevelop our CLASSMATES® brand. To give you the very best from our extensive range we've developed in excess of 1,000 better quality products whilst keeping prices affordably low. From the resources themselves, to the packaging they come in, the Hope team have left no stone unturned to help you make savings – from paint and PVA through to pens and hand soap, CLASSMATES® can save you up to 45% against the big brands.
CLASSMATES® is the ideal solution for any learning space, office, staff room or cleaning cupboard. Try it – you'll be amazed at how much of a difference it can make…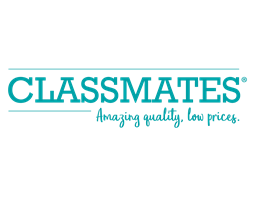 Kelly, manager at Treetops Brookbank Nursery, is in no doubt about why she loves our CLASSMATES® range.
"Nothing sparks creativity in our children quite like art play," she says. "They love the sight of paint, paper and glue being laid out on the tables and you can see their faces light up as they think about the masterpieces (and mess!) they are about to create. We need art resources that meet our standards whilst helping stretch our budgets further. That's why we love CLASSMATES®. The quality is fantastic, the ready-mix paint is nice and thick, which means it dries with a bold colour, and the PVA is the best we've ever used. But what's even more impressive is the price! We previously used all the famous brands, but they just can't compete.  And it's not just the children who use CLASSMATES®; we're often restocking the office with the great stationery and cleaning ranges!"
Little ones love to be creative and with our lowest ever price on PVA glue, you'll have plenty for all your crafting fun! The CLASSMATES® PVA range is suitable for little hands in every way, as it is CE certified and formulated to wash easily out of clothing and hair, as well as being free from gluten, latex, wheat and phthalate. You can be confident that with the variety of different sizes available, there is an option to suit the needs of your setting.
But that's not all – we understand that nursery budgets are tight, now more than ever. So, we have invested £4 million into lowering the online prices to give you better value. This includes CLASSMATES® products, meaning you can save up to 25% on PVA (the 5l bottle is just £4.45!).
Sometimes, finding a low-cost alternative to the big brands can be a time-consuming and frustrating process. That's why we've made sure that switching to CLASSMATES® couldn't be simpler for the managers and practitioners of busy early years settings. You don't need to do a thing – every time you add a big branded item to your basket online and there's a CLASSMATES® alternative available, you'll be shown the saving you can make automatically. You can then choose to switch at the click of a button – it really is that easy, and it gives you the opportunity to re-invest your savings back into your nursery.
Remember, too, that with Hope it's not just the big brands you can save against. Our online price comparison tool also compares hundreds of resources against key suppliers, saving you more time and money
So, what are you waiting for? See the difference for yourself by ordering now…
Classmates® is the ideal solution when it comes to finding best value for your supplies, take a look at the full Classmates® range.