Resources to Raise Attainment - Product Reviews by Andi Turner

Communication Language and Literacy
Our setting benefits from having magnetic dry wipe boards in pretty much all areas and they have been enhanced with Chatter Clouds. They're simple little speaking and listening devices that we use to record instructions for the kids such as: find enough rocks to make sure everybody has one each; find 3 green cylinders and 2 red cubes; and to introduce new vocabulary such as extra, remain, divide.
We also used them to ask open ended questions such as where are all the bees today and why has it gone dark outside, and to record the children singing a snippet of a pop song or just chattering amongst themselves. They love hearing their own voices played back. We also recorded some of the repeated refrains from our favourite storybooks and had a lot of fun hearing the children say them back exactly the same way we read to them.
The Chatter Clouds are ideal for these activities because they have a 40 second recording time, unlike similar devices we have that last for just 10 seconds. It can take 10 seconds for them to think of something to say, by which time the recording period has ended completely blank. They're also better than our other recording devices because they have a large magnetic peg on the back and a hook on the top, which means you can attach them to pretty much any surface. We stick them up on our dry wipe boards which encourages the kids to make marks and give meaning to those marks. We observe and re-record as the children's interests move on or when they're ready for another challenge.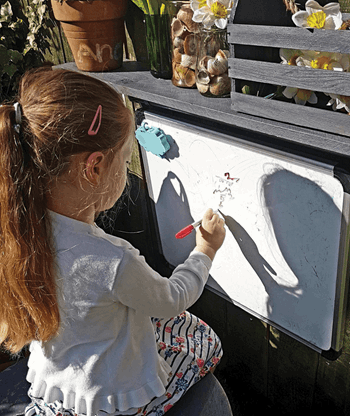 Gruffalo Travelling Tales
The Gruffalo Travelling Tales bundle is a magnificent addition to our setting. I mean, who doesn't love The Gruffalo right? It comes with a teacher pack with ideas on how to enjoy the resource, a board game, and a non-fiction book about forests which has given us lots of ideas for extending and broadening children's interests. The soft toys are a substantial size and excellent quality and wash really well. We know this because whilst on a visit to a child's home they were spoon fed porridge.
The Gruffalo himself is a thick, plush hand puppet that comes with a little brown mouse attached. Completely from memory, the kids set about making homes for the animals using whatever they could find around them. Log slices became the log pile house for a snake, a potted plant was a treetop house for owl, and a terracotta plant pot laid on its side was an underground house for fox. The CD is delightful and we've played this really low to soothe a grizzly baby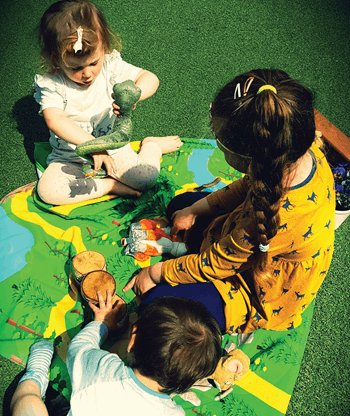 Magnetic Mazes - A product review
The Magnetic Mazes are tremendously well made and are a smash with the kids. We left the geometric shape set beside the building blocks and dry wipe board, so that children could match up the shape board with a 3D block and attempt to practice drawing the shapes on the board. We were surprised how long children sat and worked with these. They're actually very therapeutic, I enjoyed working through them all myself. One kid loved them so much that she took them home with her for the weekend. Dad said she took her favourite one to the supermarket and it kept her quiet in the trolley the whole time. She's 2, and knows what a hexagon looks like. Kudos to Dad. They come in sturdy wooden trays which means you can move them around all in one go.
The 26 piece Magnetic Writing Lowercase Board set is pretty heavy mind, but that doesn't stop a toddler from taking them to the sand table. We're a free-range, anything-goes kinda setting but one word of caution: don't let the kids take them to the wet sand table. I can think of better ways to spend a weekend than drying out sand with a hairdryer and blasting compressed air from a can into narrow spaces. Just saying. Overall, we like these a lot because they're as much about hand eye coordination and honing fine motor skills as they are about learning our letter sounds. They're so robustly constructed and well-liked that we're satisfied they'll be around for a long time.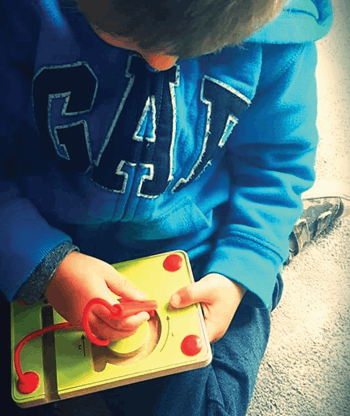 Our kids love a little table top game but we're used to hanging chimps from tree branches in groups of 6. It can get a bit crazy. But The Curious Dragon games are for just 2 players (and 4 disgruntled spectators). They're supposed to be suitable for children aged 3+ but we have 2 year olds who enjoyed participating in 'Collect the Eggs'. (It was all about the spin wheel if I'm honest). Which taught her about the concept of taking turns. The best bit was listening to the rising 5 giving play instructions to the next players so, as always, what starts as a maths activity becomes a communication activity.
The other 4 games in the set are good too, particularly because they're quick, which means that the children get to complete the challenge before they lose interest. In some of the games the kids did swap the eggs and picture cards with loose parts they scavenged around the setting, which extended their learning tremendously and kept them engaged for longer.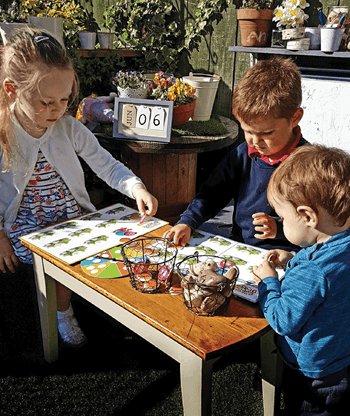 We keep the wooden number tray sets with our loose parts and play dough. Obviously, the possibilities are endless: the kids have counted beads into them; rubbed over the numbers with paper and chubby wax crayons; used them as baking trays to bake play dough bagels in the bread bin oven; and even dipped their fingers in finger paint and traced around the numbers. If you're going to let the kids get as messy as they like with these then I'd varnish over them with a durable matt varnish and give them a week to cure really, really hard (they're easier to wash). I also put the 1, 2, 3, 4, 5 Frame Tray set with the loose parts. For some reason, the kids love trying to transport the tiniest objects around the setting with them.
They fill the hollows up with as much stuff as they can and walk around the place like they're on a tight rope 50 feet in the air. It's a great skill to get from the one side of the garden to the other without dropping a single shell.  A skill not one of them has mastered yet but the perseverance and concentration is to be much admired.