Product Review: Magicubes
Magicubes ERA award winner 2018
We are thrilled to announce that our Magicubes range has recently won an Education Resource Award. The judges described the range as an exciting Early Years' focused product with a variety of applications to support learning across the EYFS. Here's why Magicubes is an award-winning range...
The common attention span of a three-year-old child is roughly 5 minutes. Therefore, teaching in the early years needs to be engaging and creative. Magicubes can support you in turning your little ones into good thinkers, help them build relationships and work as a team.
Magicube is a new range of products which revolutionises construction while offering a complete cross-curricular approach. They stimulate creative free building and encourage children to explore the magic of magnetism, as the cubes stick together on all 6 sides. What makes Magicubes so unique is that they are tested and suitable for children from just 6 months (A rarity in magnetic play).
Magicubes are the building blocks for allowing pupils to gain skills in letters recognition, early reading, transcription, inventing, problem-solving and STEAM skills. They are colourful and expand the imagination, the perfect resource to teach all 7 areas of the EYFS:
Fun
Inclusive
Easy
Flexible thinking
Hands-on learning
Fine motor skills
Work together
Accessible
Magicubes are stocked in either 30 or 64 blocks. Sold separately are the Clips:
The whole range can be seen here.
Communication and Language
The storytelling and nursery rhyme clips are the perfect tool to create innovative and engaging story times. They encourage attentive listening, but also offer a perfect opportunity for child led learning as they create their own rhymes and stories. 
Magicube allows even the youngest of children to develop their first manual skills. The large cubes are easy to handle and encourage children to exercise control and co-ordination when stacking. As magicubes are magnetic on all sides, it encourages them to think and build in all directions to develop their spatial awareness.
Personal, Social and Emotional Development
Magicube is designed to be shared and caters for all young children's interests, some children will prefer the blocks on their own, others may love the clips. This helps develop their self confidence and awareness as they try new activities and talk about why they like some more that others. This resource will help children develop relationships as they learn to play together cooperatively and take turns.
Expressive Arts and Design
Children will love combining the blocks and story telling clips to construct and deconstruct each episode of the fairy tale before inventing their very own story. The bright and detailed clips are so engaging that children can't help but live, feel and recreate the emotions of the characters through songs and role play.
Whilst the blocks will spark conversation around colour, shape, heights etc. The word building clips will take literacy development to the next level, perfect for letter recognition and building first words. Practitioners can create regular and irregular words that encourage children to use their phonic knowledge to decode and read aloud.
Put your hand up if you can tell me how many faces a cube has … 6!
How many vertices does it have? … 8!
Finally, how many edges does it have? …  12! 
Now these questions may seem a little advance for early years students, but the EYFS states that children need to be exploring the characteristics of shapes and use mathematical language to describe them… and Magicubes help bring the 'magic' into it! Plus, when combined with the maths clips, Magicubes help children to recognise symbols and numbers in a playful environment. It offers a hands on, creative approach to maths as practitioners and children build a 3D network of interlocking sums.
For some children, magicubes may be the first experience they have of magnets and forces.  For those that already understand the concept, they can be used to stalk making comparisons to other things they know to be magnetic.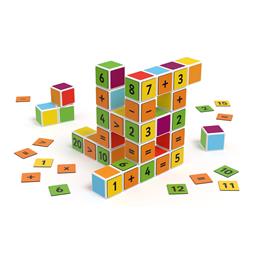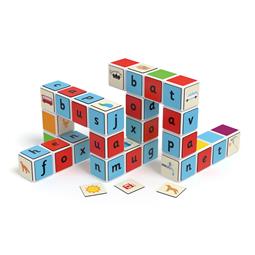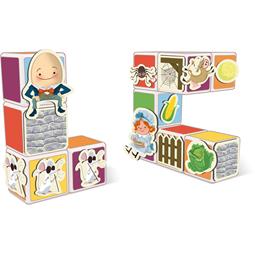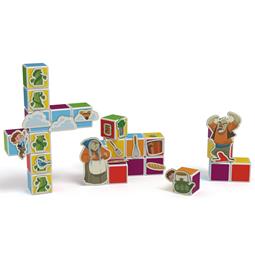 Magicube Customer Reviews
Ms Turner from Andrea Turner Childcare
How did pupils react to using the Magicubes?
This product is absolutely, by far, one of the very best resources that has ever been introduced into my home-based early years setting. It is hugely popular with babies, pre-schoolers and school children. It is so popular, in fact, that it has become a "take home and play" sharing resource so that children can play and learn at home with parents, carers and older siblings. It has replaced the current favourite construction resource overnight.
What impact have the Magicubes had on learning?
Where to start? As an open-ended loose part product, the possibilities are endless when children are given time and space to explore and express their imagination. This is why we love them so much. But I'll break down the impact into the 7 areas of learning and development (although its impact goes well beyond that). I'll start with the blocks themselves and the obvious links to the EYFS framework:
Mathematics: Colour matching. 3D shape and identifying its properties and creating larger cubes. Sorting. Comparing. Measuring. Weighing. Volume.
Physical Development: hand-eye coordination. Turning the cubes over and around to match up colours on all 6 sides.
Communication & Language: mathematical vocabulary (and this is using the blocks alone – without the maths building clips mind).
Understanding the world: exploring Magnetism. Forces. Cubes in the wider environment.
Expressive Art & Design: what the children can do with these cubes is limited only by their imagination. They've built garages for cars, bridges over train tracks, landing pads for dragons, tunnels for foxes and caves for bears. They've even built a flight of steps for the puppy to reach up to a toy box. And their elaborate narratives have been amazing, as it usually is from block play.
Personal, Social & Emotional Development: the children have shared, taken turns, collaborated, managed frustration and demonstrated perseverance when their tall towers have been deliberately pushed or accidentally fallen over.
Literacy: story time and looking at picture books is pure inspiration for block play. Hearing expressive and descriptive language used spontaneously in children's own imaginative play is utterly delightful. Retelling a much loved story. Representing a castle or a boat or a space ship.
I could go on. And that's without even addressing the characteristics of effective learning!
How have the Magicubes supported or enhanced the everyday life of you and your pupils?
Levels of engagement are deep. Very deep. Play is purposeful. Noise levels reduced.
Please give a short overall review of the Magicubes:
The magicubes have been such a huge hit in my classroom, the children much prefer these to standard building blocks as they are easier to stack and build with due to the magnets. The clips are an excellent addition and have really enhanced our maths and phonics lessons as children can build their own words or number problems, or simply order numbers. They are so versatile! The nursery rhyme and traditional tales clips have helped to enhance speaking and listening and are a great way to get boys engaged in literacy!
What is innovative about the Magicubes?
Just how versatile the product is with having the additional clips, the scope for this product is amazing and can be  used across so many areas of learning. I know I feel as  though I am getting excellent value for money because I  can use it in so many ways and differentiate the use as needed, so that the use of the product at the start of the school year would look very different to how it is used at the end of it.
What impact have the Magicubes had on your work in the classroom?
Firstly, the children have been extremely engaged whilst using this product so behaviour in the classroom has been much better! Secondly, it is a very simple 'go to' independent activity to set up during adult led sessions with minimal effort required on my part!  It is perfect for the 'lazy' teacher who needs a grab and go activity that  will stretch and support learning without taking up a lot of precious time prepping materials.
Looking at the price of the Magicubes, has it been cost effective in terms of saving time, results and meeting educational aims?
Definitely! I will most definitely be purchasing additional magicubes  in my September budget to provide children with more cubes to create  larger scale constructions, as aforementioned, I feel that this Is such great value for money I would definitely recommend this product to any  Early Years/KS1/SEN practitioner.