Product Review: 10 Minute Sentence Adventure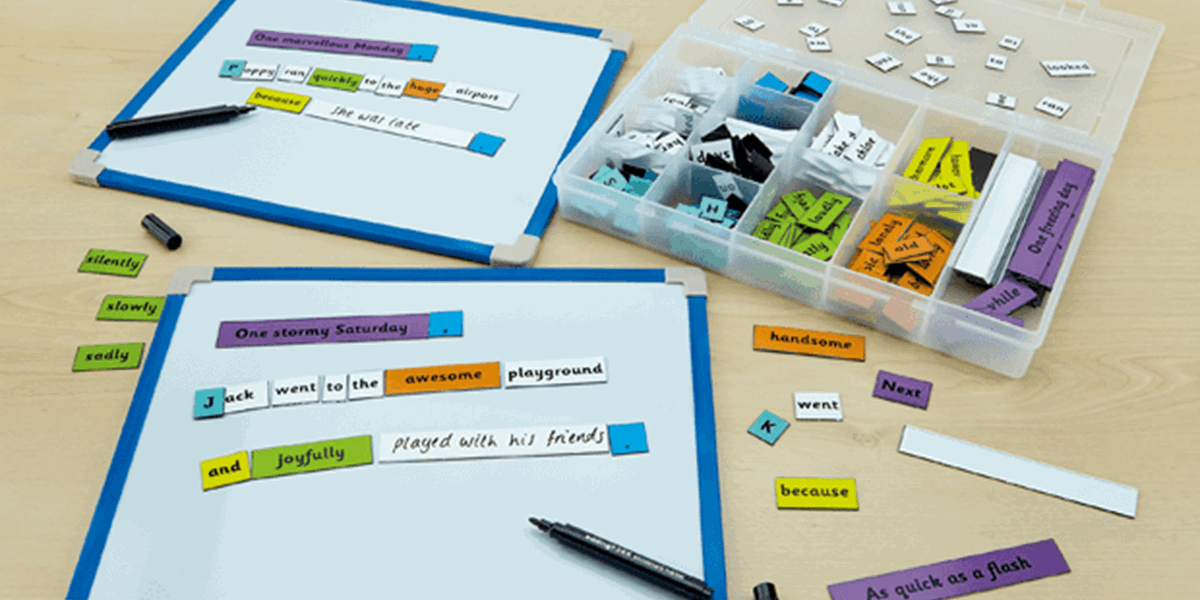 A ready-made eight-week intervention programme to help KS1 and lower KS2 children understand the components and structure of sentences  
Designed for children in Y1-3 'stuck' at level or below expected level
Laser-sharp focus on sentence structure for quality impact
Ideal for TA mediation with lower-ability children, dyslexic learners and EAL pupils
Concrete, practical, flexible and fun
Understanding the components and structure of a sentence is a sophisticated business and there are no easy recipes or step-by-step instructions. Crafting a sentence is an art. For many children this is real graft, but this is where 10-Minute Sentence Adventure can help.
This hands-on dynamic resource has been designed to help children to get to grips with the basic parts of a sentence so they can begin to combine words and use them effectively in their own writing. It also helps them to co-ordinate their ideas and promotes self-checking.
The resource comes as a pack containing 150 colour-coded magnetic word tiles in a handy plastic tray, along with a vibrant 80-page teacher's guide containing photocopiable worksheets, checklists, certificates and a progress tracker.
The teacher author has arranged the content into eight supremely practical learning levels and it is designed to be used on a one-to-one basis or with small groups for eight weeks, concentrating on rudimentary phrases, capital letters, punctuation, conjunctions, adjectives, adverbs and sentence openers. The resource can also be worked through using a series of inconspicuous checklists. At its heart is intensive interactive support, so this is perfect for TA use.
What makes the resource so useful is that no specialist knowledge is required – everything is self-contained and can be used with ease to teach basic writing skills up to mastery.
At each of the developmental levels, children manipulate the magnetic tiles and build a phrase or a sentence. Each level is supplemented with five clear, crisp and user-friendly tasks to make certain children are fully confident in their understanding before progressing further. Each level has been very skilfully fashioned and there is a tangible sense of positivity and 'can do' running throughout to fuel pupil confidence.
The quality of literacy support programmes can vary from the meticulous to the inappropriate but one look at this programme will tell you it is admirably fit for purpose. It is devoted to developing automaticity and fluency and the rich activities gently guide children out of their comfort zones into new learning, helping them to take risks and experiment with words and punctuation in safe and fun contexts.
Ordinary teaching does not enable children with literacy difficulties to catch up, which is why this resource adds real value. It is an affordable proactive intervention course with a clear focus, underpinned by highly competent thinking and engaging activities.
Verdict:
Tactile, tactical and targeted
Promotes independent writing and self-regulation
Creative activities that support conscientious thinking
Off-the-shelf and easy to administer
Reviewed for Teach Primary by John Dabell, Educational Consultant, Author, Reviewer, and former Teacher
10 Minute Sentence Adventure is available to buy here.