Introducing our Top 10 Early Years Products for September…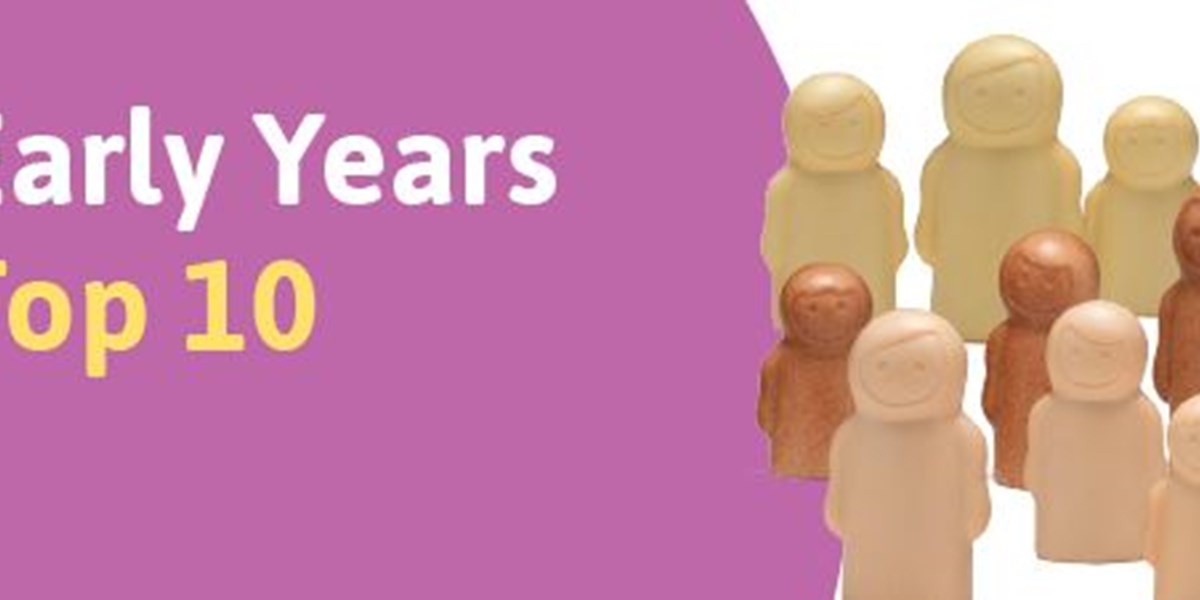 With the autumn on its way, we thought it was the perfect opportunity to introduce over 330 brand new products to our range. From Small World and Activity Play through to Early Curricular and Art, we've added something for everyone. Take a look at our Top 10 picks…
Little People Sensory Play Set
These charming little people have been designed to invite play but leave the details as wide open as the children's imaginations. Characters can be anybody from anywhere and they might be feeling sad, happy, furious, shy or jealous. Made from a unique stone mix, they are wonderfully tactile and have a nice weight in the hand as well as being durable enough for indoor and outside use in all weathers and environments. The range of colours and sizes make them ideal for sorting and children will develop math language as they play.
2. Classmates Washable Paint for Young Ones
This washable paint is specially formulated to provide superior washability from skin and most children's clothing, making it perfect for little artists. The pack contains 12 x 300ml bottles. Colours include pink, peach, burnt sienna, brilliant yellow, brilliant red, brilliant green, brilliant blue, black, orange, white, turquoise and purple.
3. Classmates Pastel Border Roll
This pack of border roll comes in 4 beautiful pastel colours (3 pale blue, 3 pale yellow, 2 pale green and 2 pale pink.) Perfect for adding a soft colour to your displays.
4. Sensory Balance Beams
With just a drop of imagination, these exciting and tactile balance beams can become anything. A pirate ship plank, a bridge over a crocodile infested river or a tightrope in a circus. They are the perfect way for children to develop co-ordination and balance skills in a fun, imaginative way. The central linking island and the various balance boards allow this challenging balance system to be put together in different shapes and sizes with ease. There are no screws or assembly required – just click and go.
5. Size Sorting Eggs
These highly appealing and wonderfully tactile eggs will help develop children's comparison and sorting skills. The set of eight eggs is ideal to stimulate both language and mathematical development as children sort the eggs by size and weight. Contains: 8 eggs 40 – 75mm.
6. PIP Kombi
Perfect for developing teamwork, collaboration and motor skills, PIP Kombi enables children as young as 2 to build their own exciting role play environments which can be arranged to look like a car, boat, airplane or anything else your little ones can imagine.
7. A-Z Lacing Snakes
This is a great set for practicing letters a-z and making simple words whilst developing your fine motor skills. Children create their own snake by lacing the body parts onto the lace. The body parts have lowercase letters a-z on the top for easy letter recognition. Includes 5 heads (4 x 4.5 x 2cm), 26 body parts a-z (3 x 3 x 2cm) and 5 laces (each 100cm long). Supplied in 5 colours.
8. Coloured Castanets
These castanets are supplied in a range of bright colours and are light and easy to use. They are suitable from ages 3 upwards and have gone through rigorous testing to ensure suitability.
9. Woodlands Footprints
This set of woodland footprints is a great way for children to start their woodland explorations! Each stone has the raised footprint of an animal on one side and an image of the animal that footprint belongs to on the other. The children can record their findings by taking rubbings, making impressions in play dough or creating prints using paints. The footprints are made from a unique stone mix and are robust enough to be used throughout an early years setting, both inside and outdoors. Contains eight double-sided stones (70 –80mm).
10. My First Polydron
Bright enquiring young minds need brilliant products to stimulate their imaginations, and we are delighted to bring you My First Polydron to fill this need to explore and create. The chunky design makes the product perfect for little hands, as it's easy to grip and manipulate. It will set children off on a path of discovery and learning about shape, space and creativity. .