Product Review: Hope Fractions, Decimals and Percentages Kit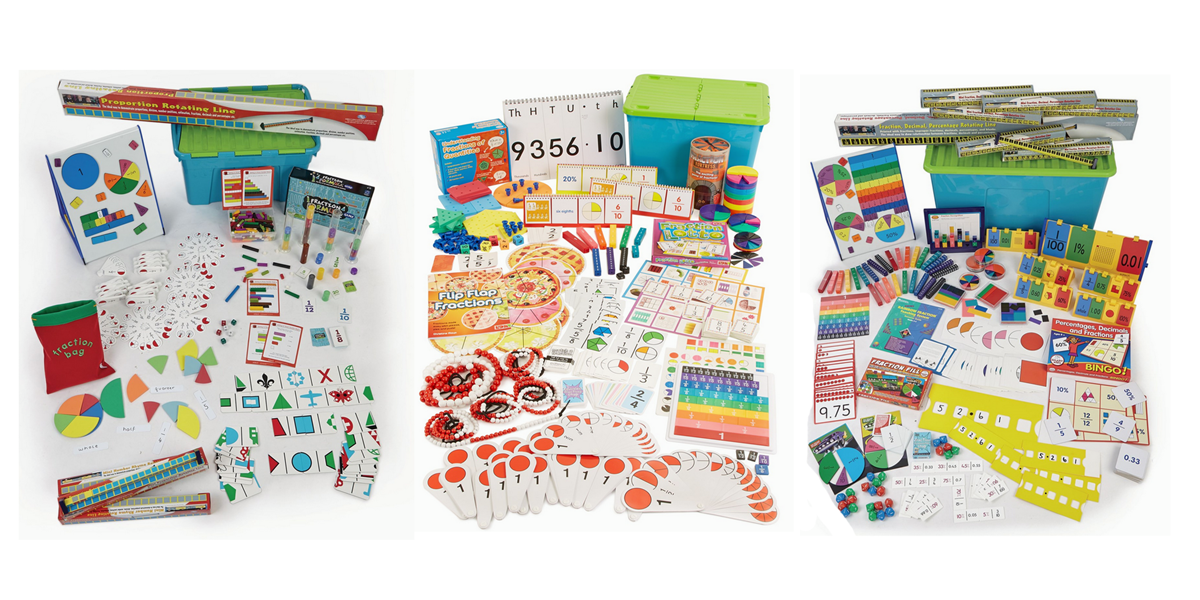 Our new and own-developed Fractions, Decimals and Percentages kits are the perfect solution to help pupils master and actively engage with this (often tricky!) concept.
Kits are available for Years 1-2, 3-4 and 5-6, so progression across the school is seamless. The items in each kit have been specially selected on the basis of their teaching versatility and pupil interest. From fun-based games and interactive activities, each kit is brimming with practical and engaging resources for children, all contained in a handy storage box with lid.
Our Year 3-4 kit was recently reviewed by Educational Consultant, John Dabell for Teach Primary magazine. Here's what he thought…
Product Review by John Dabell
Easy maths resource management developed by Hope Education for clear progression across the school
Hands-on, topic-specific maths kits for years 1 to 6

Packed with interactive and intelligent maths equipment

Resources to aid active engagement and reasoning

Impressive support for mastery teaching
According to Singaporean maths mastery maestro Dr Yeap Ban Har, one of the most highly regarded and best known maths trainers in the world, children don't really struggle with maths, but do with abstraction. He says that maths is characterised by the ability to think in abstractions, and that concrete materials and pictorial representations are therefore vital for bridging children's understanding.
Physical equipment helps children to visualise a problem and to make links. That's where HOPE's child-centred maths kits come in. These meaty bundles are tailor-made for mastery learning, in that they promote problem-solving and are intended to help children move from shallow to deep learning.
There are three sets available, each containing its own unique bundle of goodies, but they all follow the same approach. They are intended to be both worked and played with in a way that edges children towards acquiring asurer grasp of mathematical concepts and principles and the language to describe them.
My Y3/4 kit included a range of interactive elements, including flip stands, fraction fans, tower cubes, tiles, dominoes, a card game, a lotto game, a fortress game, bead strings and more besides, all housed within a sturdy box.
Enclosed in each kit are a set of concise teaching notes for mastery, which offer practical ideas for maximising the teaching, learning and assessment potential of each piece of equipment. There's an emphasis on developing skills, concepts, underlying processes and methodology, with lots of straightforward and creative suggestions for how the materials can be used.
The kits are particularly good at promoting conceptual understanding and developing children's mathematical vocabulary, meta-language and literacy across the maths curriculum. The resources are sufficiently varied that children are encouraged to look at all of them and absorb key concepts from different perspectives, thus facilitating deeper thinking and reflection.
A solid base of research supports the regular use of manipulatives when teaching maths in the classroom, but that needn't mean having to search high and low for materials. These maths kits can help children to observe, model, and internalise abstract concepts, while at the same time helping you make more efficient use of your time.
✔ Overflowing with engaging, multi-purpose resources for mastery learning
✔ Ideal for teaching fractions, decimals and percentages
✔ Encourages children to actively engage with mathematical concepts
✔ Helps children work towards a comprehensive depth of understanding
✔ Creative, colourful and child-friendly resources that encourage confidence
✔ Promotes maths connections for maximum learning impact
You're looking for complete kits of visual and tactile resources that can help teach some of the maths curriculum's thorniest concepts.
Shop the range here