Early Curricular Play Tray Mats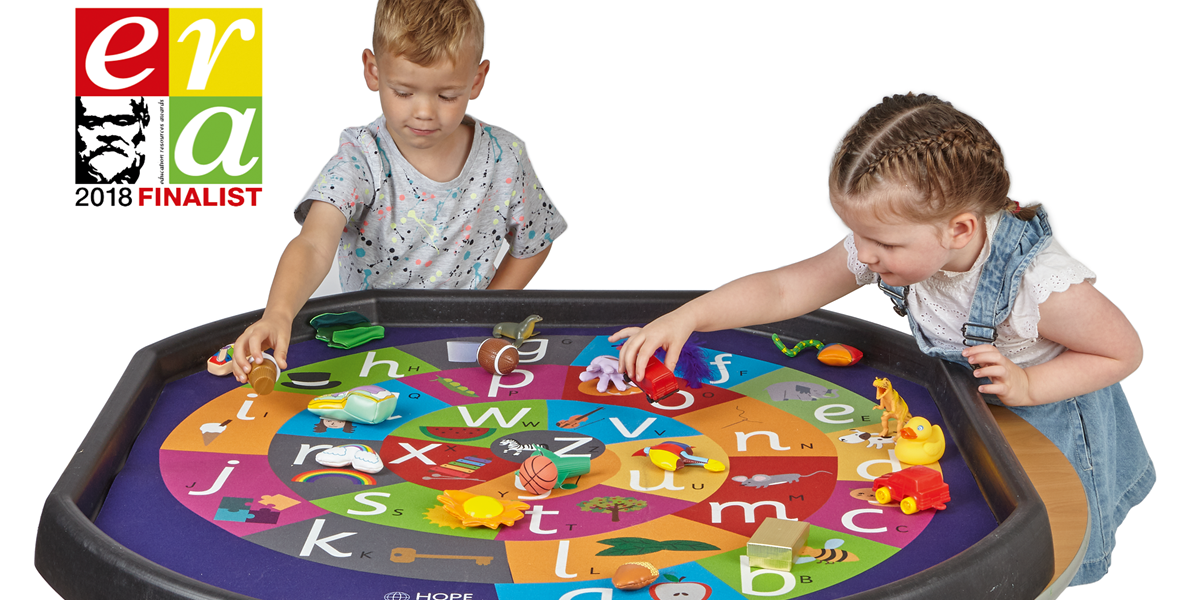 Our early curricular play tray mats were finalists at the 2018 Education Resource Awards. We were thrilled by this news and wanted to share why our customers love these mats.
Developing Mathematic and Literacy skills in the early years is fundamental. The EYFS states they are two specific areas that must shape educational programmes in all early years settings. Grasping the basics of these subjects early on, supports children in becoming confident and capable as they progress through school. However, in 2016, around one third of children did not have the essential knowledge and understanding they needed to meet the expected level in the early learning goals by the age of five (SFR, 2016).
As a resource supplier, it is our responsibility to ensure we provide all early years educators with the best possible tools to deliver the EYFS. At Hope, we believe there is no better way to teach than through play... after all, it is the natural way in which children learn.
Open the door to any nursery, childminders, preschool or even a reception class and you can almost be certain to find a play tray. They are a simple and affordable resource and just the sight of them instantly sparks excitement in children.
It is this excitement that led us to believe that we could create a range of curricular play tray mats that provide an innovative approach to incorporating mathematics and literacy into play.
Our alphabet play tray mat features letters A-Z in both upper and lowercase with a corresponding image. This enables children to link sounds and letters together to develop phonetic knowledge in a hands on and engaging way. Children will have great fun searching the nursery for loose parts or resources that they can take back to their mat and match to the correct initial sound.
Printed in Sassoon Primary font (recognised as the font children find easiest to read) the letters are not only perfect for identifying letter shape and formation (children will love tracing the letters with their fingers) but also the order of the alphabet, this is assisted by the swirl pattern printed on the mat.
But the learning doesn't stop there. The bright and exciting images on each letter can be used to help introduce new words to children and start talking about how they might be spelt and said. Further developing their communication and language skills.
Our numeracy mat features the numbers 1-10 with equivalent animals and objects. This is important, as when a child is developing their numeracy skills they often 'know their numbers' and are able to recite 1 to 10/20 in the correct order; however, this doesn't show they understand what numbers truly mean. By displaying each number in different forms, this mat teaches children about conservation. E.g 5 is always 5 – whether that be the number (5), the word (five) or 5 rainbows.
A key learning goal in the EYFS is for children to identify which numbers are 'one more' or 'one less' than a given number. This mat allows children to do this easily thanks to the fun images. For example, there is one more apple than there is cats. For more advanced children, the mat can also be used to solve problems such as doubling and halving, addition and subtraction.
A key learning goal in the EYFS is for children to identify which numbers are 'one more' or 'one less' than a given number. This mat allows children to do this easily thanks to the fun images. For example, there is one more apple than there is cats.
For more advanced children, the mat can also be used to solve problems such as doubling and halving, addition and subtraction.
Sorting helps develop a wealth of mathematical concepts, from observation and reasoning to equivalence and difference. Because this mat is spit into 10 equal segments in different colours, it allows for simple counting and sorting exercises. Children can sort toys or resources by the number they have of them or the number of colours they are made up of. This naturally opens up conversation around the topic as children start to discuss other ways items could be sorted (size, weight, shape etc.)
Both mats feature vibrant colours and are specifically designed to fit inside a stand play tray (Diameter 880mm). They can be used independently or in conjunction with other curricular activities.
References
9 SFR 2016 EYFSP 2015-2016; www.gov.uk/government/statistics/early-years-foundation-stage-profile-results-2015-to-2016.
"You've got me. I'm a fan of play tray mats because I'm a fan of play trays and the only thing better than a good old play tray is a beautiful play tray mat! Pupils reacted so well to the mats, on the literacy one they particularly enjoyed pointing out the colours and the letter sounds and walking around the "path" like the yellow brick road.
What I love about these play tray mats, is how thin but durable they are. And I like that they are thin because, once they've been flattened so often that they no longer curl up, the present virtually no tripping hazard – not even for babies. They are great mats even without being used in a play tray but, if they are used in a play tray for messy play, are easy to clean back up.
These curricular play tray mats have had a huge impact on learning as  they make it completely effortless to incorporate Literacy and Mathematics in outdoor play spaces, whatever the weather. So where we might not appreciate books being taken outdoors on a rainy day, we're perfectly okay with these mats being outdoors.
Within our setting, these mats are now an all year round, open-ended outdoor curricular resources without the practitioner having to even give it much thought. They have become a continuous provision for our outdoor space. As essential as blocks, crates, paintbrushes and watering cans. With boundless opportunities for extending play and interaction.
The price of these mats are fantastic, they are absolutely cost effective as they meet many educational aims."
Ms Tuner, Andrea Turner Childcare
---
"The play tray mats are wonderfully colourful and  instantly attract the attention of the children in preschool. These mats allow a tiered approach to learning with different ages with just a drop of imagination required from the practitioners.
The children were excited when we got the mats out. They were curious and instantly recognised some of the images such as key, flower, umbrella and rainbow. They were however less knowledgeable on pictures such as needle, yo-yo and leaf, perfect for opening up conversation and learning new language.
In our setting, we like the way the mats has been made to fit inside a play tray as this gives it stability and creates a border for focused work.  It also allows us to use them inside and outside.

The products have allowed a tiered approach to learning.  And when using the literacy mat, some of the conversations I overheard the practitioners leading were:
In the toddler age group:
'Can you find the hat?'
'Can you see an animal?'
Basic speech and language work and picture recognition
In the preschool room
'T for tree'
'M for mouse.'
Practicing phonics and practicing writing the letter
We decided to make 2 boxes of accessories that are a welcome accompaniment to these products:
Box 1 – a box of small items pictures to match the ones on the play mat
Box 2 – a box of items that are different but allow phonic development eg fish not flower / car not cat / house not hat ( For the literacy mat)
These mats are perfect for group work and developing communication alongside early curricular skills and has supporting learning at a low cost.
Stephen McLaughlin, Operational Manager, Kiddi Day Kare
---
" These mats are a great addition to our play tray, they are the perfect size and can be used a range of ways to support learning. My children really enjoy using the mats to support their Literacy and Maths lessons. The mats are extremely durable and will withstand a lot of wear and tear which is so valuable in Early Years classrooms!
The /children really enjoy using these mats, they enjoy matching letters numbers and to extend learning have been matching initial sounds and also quantity on the mats.
These Mats are so innovative, as a lot of other play tray mats are small world focused, so it is a nice change to have Maths and Literacy activities in the play tray with lovely colourful mats to support the activities.
These curricular mats have supported children in their Maths/Literacy lessons with their number recognition and phonics sounds which we have been working on. It has been a great enhancement to the classroom during learning through play as it helps children to consolidate their learning without the constant need of adult support.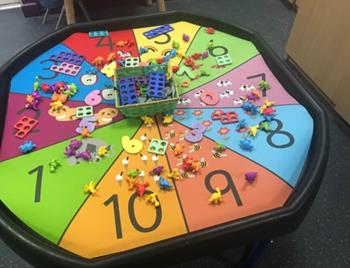 They have made setting up for Maths/Phonics lessons easier as this is now a go to independent activity that can quickly be put out. The children enjoy using the mats to match letters and numbers and the mats have definitely supported their number/letter correspondence.
Having the mats in our play tray has meant that a larger number of children can access the activity which is a bonus as we are often limited by table size, and a large group of children can often be found using the tuff spot when these mats are inside. The mats are easy to put out for an activity and simple enough to be rolled up and stored away too without being bulky.
The mats are really well made and can easily withstand the use that the children put them through so for under £20 and years of use this is definitely great value for money. The mats are also as versatile as you make them, the possibilities on how to use the mats in literacy or maths lessons are endless and can be used with a wide range of different products and materials to support learning.
An example of how we used the Alphabet Play tray mat in our phonics lessons
We use our alphabet Acorns (Also from Hope) with our Alphabet Play Tray mat to match the sounds, we also added some sound pebbles to support children with their letter correspondence.
The main thing I love about the alphabet mat is that the main letter being represented is in lower-case… something that can be a struggle to find in resources to support phonics, as generally only the lower-case sound is taught first. However, the upper-case letter is also on the mat too so children who do recognise upper-case are also supported. The children absolutely love their phonics lessons and it's so nice that these skills can then be reinforced throughout play to help children consolidate their learning. Phonics is definitely one of my favourite lessons to teach and I'm so glad I have found this play  tray mat to support my children with their Phonics knowledge and make lessons more interesting!"