Did you know you can save 80% of your admin time with WebFMS?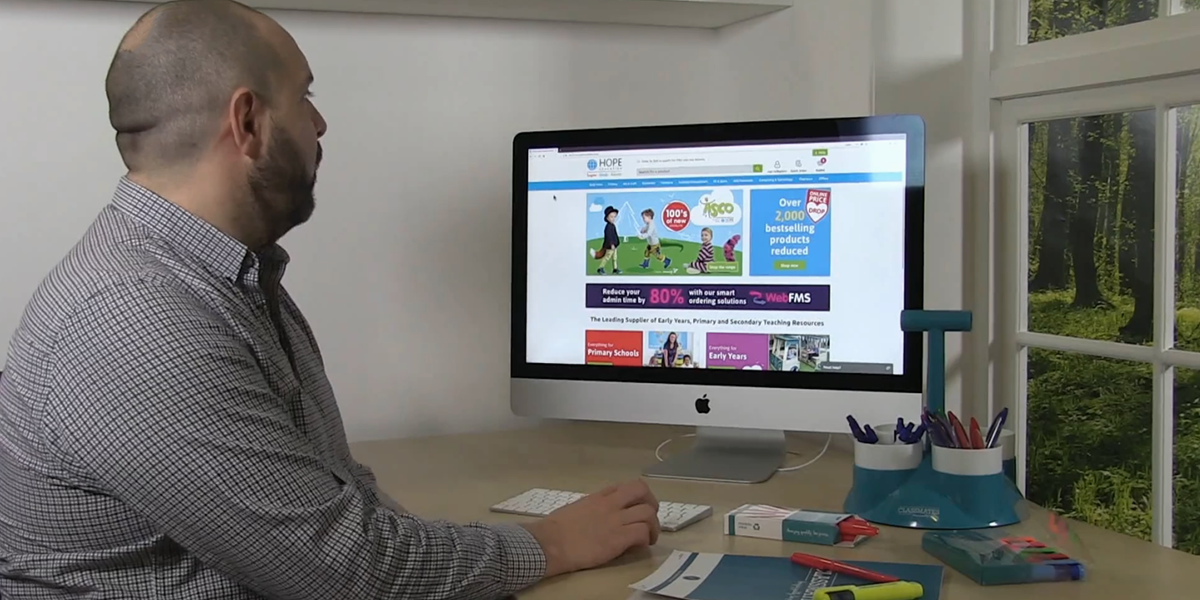 WebFMS is our smart ordering solution that allows you to buy your educational supplies easier and faster than even before. We recently did a Q&A with Primary School Management magazine who were keen to find out more...
Put simply, it's a solution that links the new and improved Hope Education website to your FMS system. This means you can choose what you need and import to SIMS with one click. You'll never need to rekey an order in to SIMS, ever. Purchase sign-off can be done within the system, and all invoices are automatically recorded in your FMS too. Less paperwork for everyone!
In my school, who would benefit from using it?
Everyone. But the main time-saving comes for Business Managers and Finance Managers. The people who process orders via your FMS system are guaranteed to save time on every order. As the solution couples with our website, there are plenty of benefits for all staff; for instance, we recently launched our online 'ShareMyBasket' tool, which helps you to consolidate orders from multiple departments/staff. No more need for you to collate scribbled scraps of paper…
What do other schools say about it?
Pippa Darwin, Office Manager of Greenlands Primary School, recently told us, "I was sceptical at first, but it is incredibly easy. It was on within five minutes and it's the simplicity of ordering online and uploading to your FMS system – I don't have to retype again. It is very, very good. It saves a lot of time and a lot of hassle." Talk to any of our customers, and we're sure they'll happily tell you they don't know how they managed without WebFMS!
Will it work for my school?
Most probably. It has been endorsed by Capita SIMS and works seamlessly with that system. It will soon be able to link to PS Financials, Oracle and Civica FMS systems too. We will assist at every step – the set up only takes five minutes, and we have an expert team on hand to talk you through the process should you need it. If you're on an alternative FMS system, then we have other solutions that can help. Just talk to us!
How does my school use it?
It's very easy to use. Once the link is set up, you can shop the Hope Education website as normal, fill your basket and click "Import to SIMS" at the checkout. Complete your order in FMS and you're done! If you have worries about activating the solution, don't worry – we won't install anything, and there are no IT or data security issues involved.
If we're interested, how do we get started?
First of all, we're giving you £25 off your first order using WebFMS. All you need to do is get in touch with Hope Education today and say you'd like to activate WebFMS. Our team will then talk you through the process and you'll start saving admin time straight away! We're so confident you'll love the solution that we offer the choice to opt out at any time, should you feel it's not working for you.