Summer Ice Cream Craft Idea

This blog post and free craft were created by our friends at Mrs Mactivity who make innovative and affordable creative learning printables for EY and KS1.
Summer is a great time of year to get crafting! For a lot of people, making arts and crafts – especially with children – can lead to disappointment, frustration and a lot of mess! But the beauty of doing arts and crafts in the summer means you can take it outside, get some fresh air, and not worry so much about clearing up afterwards. At Mrs Mactivity, we specialise in paper crafts, which require very few materials, produce little mess and have a guaranteed positive end result. Couple that with summer, and you're onto a winner!
In Early Years and KS1, many settings and schools choose to take a trip to the seaside to really inspire children with their learning. When you return to school, you can use this new inspiration to challenge children to expand their interests and activities in lots of different ways, including speaking and listening, art, writing, maths and more! The craft I am showing you today challenges children to make their very own ice cream cone craft to be used as part of a role play area, to encourage creative ideas and for cutting and pencil control skills – such fun and best of all it's FREE from Mrs Mactivity! Explore the rest of our summer printable activities here. Feel free to do it outdoors or indoors – just as the mood takes you.
What you need
The free ice cream cone template at the end of this page.
Scissors
Glue
Colouring materials like these here (link to Hope products)
Instructions
Print out the ice cream cone template included below.
Cut it out along the lines as shown.
Fold along the lines and glue into position.
Colour, decorate, add sparkles.
You're done!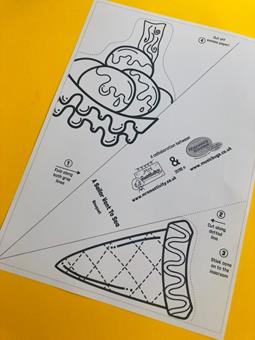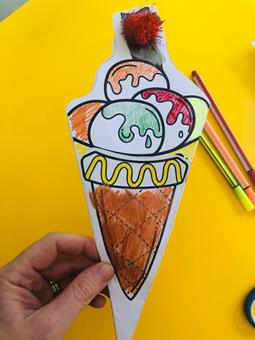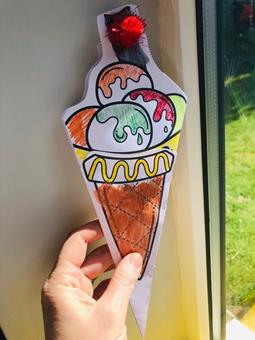 How to use your ice cream cone
Make several ice cream cones and ask your children to open an ice cream shop. Role play buying and selling ice creams and giving customers the correct flavour.
Do a speaking and listening activity where children to colour certain parts of the ice cream certain colours according to what they've been told.
Add numbers to certain parts of the ice cream and ask children to decide which numbers relate to which colours – colour by number.
Role play being on the beach.
Add the ice creams to a seaside tuff spot tray provocation.
Ask children to glue a certain amount of pom poms on different ice creams for number matching practice.
How else could you use your cone?