How to Make a Summer Diary Mini Book

This blog post is written by Heather, founder of the innovative Early Years and Primary printable activity site Mrs Mactivity.
It's summer holiday time! If you're a teacher or practitioner then you will most likely be about to embark on a much needed rest, to recharge your batteries, do all the stuff you've been putting off all year and hopefully have some fun too. However, if you have kids, you'll be well aware of the need to keep them entertained all summer long, and what better way to do this than by throwing in some learning too – they'll be having so much fun they won't even notice! This mini book activity combines making something, with writing and drawing, and is also a great way of practising recounts, or just giving children free reign on digging deep on something they really enjoy. Children can choose to use their mini book in a variety of ways including:-
- Making a summer diary
- Doing a project on one of their hobbies, or something they're interested in, for example a fact book about dogs, or Lego, or gymnastics. There are no limits!
- Doing a portrait on each page of their friends and family.
- Creating a comic, or mini reading book.
For this mini book you will need:-
- A copy of our free mini book template from the bottom of this page, an editable version is also available on our website here.
- Paper and printer
- Scissors
- Colouring materials, for example, coloured pencils and felt tips
How to make your mini book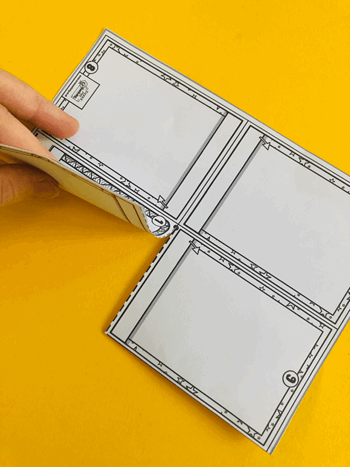 First Steps 
Print your template out, then fold down the middle and cut along the dotted line, as you can see in this photo. Now fold the paper the other way, along the centre line.  Wherever you can see a line, make a fold both forwards and backwards. Arrange the mini book so that page 1 is at the front, if you're not sure, watch our instructional Youtube video here.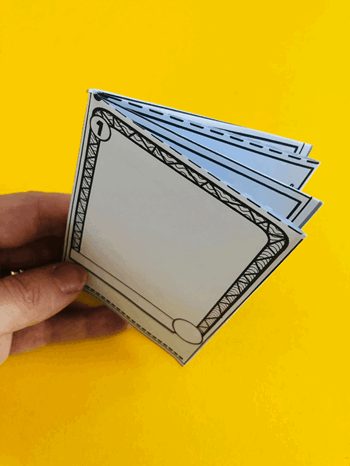 Next Steps
Once you've folded your mini book correctly, you are ready to start! Choose from one of our ideas above to make your book. Then you're done! Be as creative as you can.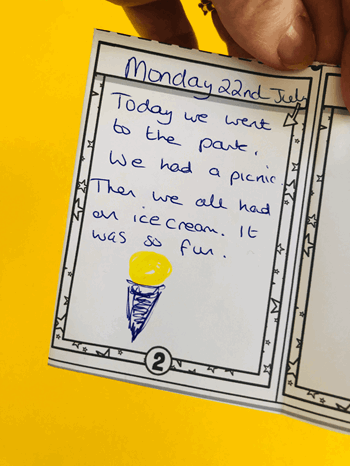 Final Step.
Your summer diary is ready to use. If you like this, you might like the rest of our summer activities too.
How to make a Summer Diary Video